Baby, It's Cold Outside
southpole .....
Later: Diamond
Earlier: Fruition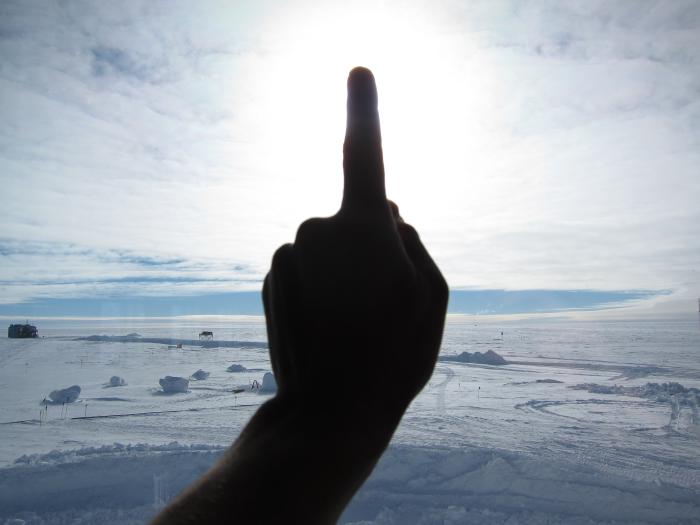 Holy frozen Batman, I'm leaving tomorrow! I still have a lot I want to do! I was just getting into the swing of things! But I am also excited to leave. A colleague always says, "the best days at the South Pole are the day you arrive and the day you leave." After all these years, that feels as true as ever.
I know my time is short today because I have to:
Pack (bags out by the station door known as "Destination Zulu" by 7 pm)
Sort my garbage (the US Antarctic program has an extensive recycling and waste management program, and I have two weeks of trash in the can in my room)
Finish editing documentation for our Winter-Overs
Help the new arrivals get set up for their work
Possibly, hopefully, visit the antenna fields with Marco, the second of the four marathon finishers here. His site is a few km from the station and will present a view of the South Pole I've never seen before.
That will be a very full day even assuming nothing else comes up. But 24 hours from now I will be listening intently to the flight announcements. I just got email from Northbound colleagues in McMurdo saying there are flight delays today due to fog (dang) but that they saw penguins (cool!) — the ever-present uncertainties of travel in Antarctica start to kick in for me now.
But I'm going home soon!
I really can't stay (but baby it's cold outside) I've got to go away (but baby it's cold outside) This evening has been (been hoping that you'd drop in) So very nice … So really i'd better scurry (beautiful please don't hurry) but maybe just a half a drink more (put some records on while i pour)
Ooooo Baby it's cold… out…. side!
– Lyrics and melody by Frank Loesser … shout-out to E